DEX IC presented in Digital Assembly 2016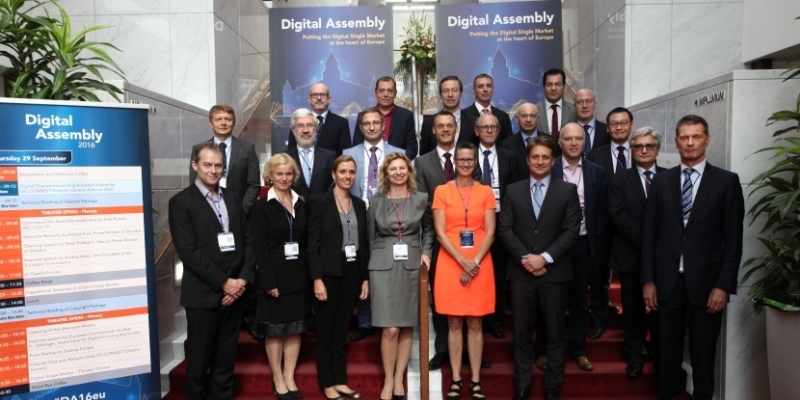 28 September 2016, Digital Assembly 2016, Gigabit Society was organized in Bratislava. Jan Kubalik, Chairman of the board of DEX Innovation Centre, presented about the PPP4Broadband and how it contributed to better connectivity especially in rural areas and how faster BB connection would have an impact on everyday life both at the private and public domain.
PP4Broadband is an initiative in SEE bringing together 9 countries (EU 15, NMS, and non-EU members). Now, we are currently network with 10 members from 10 countries. The aim of initiative is to boost development of broadband in excluded areas, where private market fails, by combining public-private investments to build broadband infrastructure.
What we did in PPP4Broadband?
Soft results:
9 nationally customized tools to guide public procurers in design phase of PPP Broadband projects
9 Centers of Excellence providing advisory, building awareness and cooperating with national stakeholders ( 4 very active)
1 policy learning portal
Hard results:
3 projects designed with total amount of 3 mio. investment, providing NGA access to more 30 thousand citizens in 3 different countries
20+ projects in different phase of development
2 projects supported in Connected Communities initiative
2 expertise in design of national/regional broadband policies / tools
Broadband plan design for 70+ municipalities
Participation in mapping process in 3 countries
1 research cooperation under development in field 5G
In following table you can find summarization, which services users would use:
| | |
| --- | --- |
| Work from home | 45,9 % |
| Telemedicine | 15,7 % |
| Lifelong learning | 38,4 % |
| Smart home services | 42,8 % |
| E-government (e-taxes, e-bank) | 55,2 % |
| Videoconference (multiple users, high resolution) | 22,9 % |
| High resolution TV | 59,0 % |
| IP TV | 64,0 % |
| Cloud services | 34,3 % |
| Broadcasting of services directly from the internet (music, video, films…) | 63,4 % |
| Online games, lottery | 29,5 % |